OLYMPICS SOUNDTRACKS

1. Adiemus - Adiemus feat. Enya

2. Return to innocence - Enigma

3. African Dream - Vicky Samson

4. Fly - Hillary Duff


VIDEOS

1. Today, I woke up in South Africa.
'Today I woke up in a place that said to me, Be who you want to be.' Zanele Situ was the first black athlete to win Paralympic gold, bettering the woman's javelin record by more than three metres at the 2000 Sydney Paralympic Games.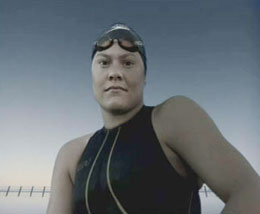 'And I realised that I'm stronger than I was yesterday.' One-legged swimmer Natalie du Toit was named the outstanding athlete of the 2002 Commonwealth Games. She won gold in the 50m and 100m disabled freestyle events, breaking two world records, and in a Games first, made the able-bodied 800m freestyle final.
'Today I woke up in a place that said to me: Be free.' Nelson Mandela, South African State President 1994 - 1999, Nobel Peace Prize winner.
'I woke up in a place where it's the size of your heart that counts, not your fists.' 'Baby Jake' Matlala, the shortest ever world champion, ended his 22-year professional career on 3 March 2002 with a successful defence of his WBU junior flyweight title.
2. Rhythm of the nation
3. Investment in South Africa